Are you looking for the perfect, laugh-out-loud present for the crazy cat lady in your life? Well, you've stumbled upon a treasure trove of the funniest gifts for cat lovers that will make their heart purr! This collection of cat-themed gifts ranges from quirky home decor to adorable clothing, all tailored to cater to cat and pet parents.
This bespoke service offered by Printed Pet Memories offers a fun and adorable way to celebrate your favorite cats. The process is simple: you submit a photo of the cat in question, and an artist will transform it into a charming cartoon portrait. It's an excellent gift for cat owners who would love to have their furry friends' unique personalities captured in a playful, animated style. The benefits are clear - it's not only a funny cat gift but a keepsake that can be cherished for years to come.
These woven cat coasters are the purr-fect combination of functionality and whimsy. They're the ideal addition to any cat lover's tea or coffee time, serving as a gentle reminder of their favorite animals while keeping tabletops safe from hot beverages. The set comes with three adorable designs, each featuring a different, super cute kitty. And the best part? They're woven from durable materials that will withstand many tea times to come!
This figurine is guaranteed to elicit a chuckle from cat lovers and is the funniest gift for anyone who understands the sometimes cheeky attitudes of our feline friends. This figurine from JFSM INC. features a grey cat, a member of their Happy Cat Collection, expressing a less-than-impressed sentiment. It's a playful nod to the sassiness of cats, making it a perfect addition to any cat-themed home decor.
Here's a hilarious gift idea for those cat lovers who also happen to be wizards in the kitchen. This black cat cutting board is engraved with the phrase, "This is where I murder vegetables," an irresistible blend of dark humor and adorable kitty visuals. It's a functional and funny cat gift that will bring a smile to the face of any cat-loving home chef.
The "Light me when the cat farts" caption on this Lihome candle is sure to provoke a giggle or two. Besides being hilarious, it's also quite useful. The candle is made from natural soy wax and doubles as an odor eliminator, making it a practical choice for cat owners dealing with the occasional stinky situation. The lavender scent adds a relaxing touch to any home, creating a cozy atmosphere perfect for unwinding with your furry friend.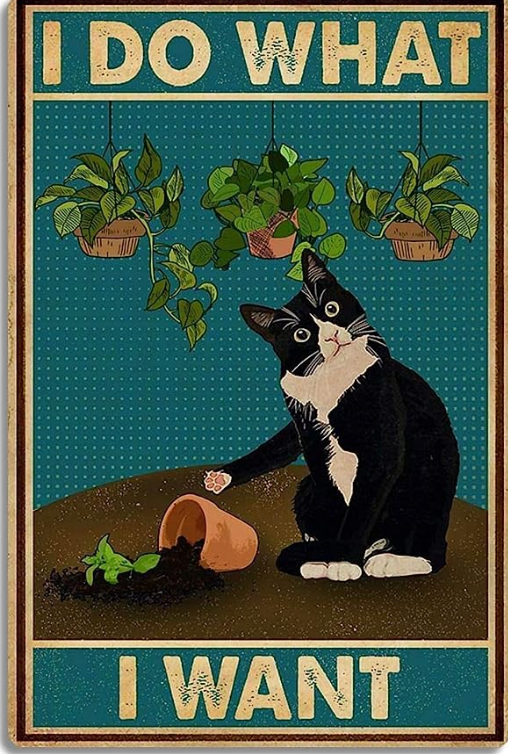 This personalized metal poster is an excellent wall art decor piece for cat lovers who appreciate the independent spirit of their pets. The sign features a black cat doing precisely what it wants - the epitome of cat behavior! This tin sign not only adds a funny element to any room but also demonstrates the owner's love for cats.
Here's a toast to all the cat dads out there! This whiskey glass from Futtumy, emblazoned with the words "Best Cat Dad Ever," is both a funny gift and a heartfelt acknowledgment of the bond between a man and his cat. It's the perfect way for him to enjoy a relaxing evening drink, perhaps in the company of his favorite feline companion.
For the cat lovers who value their feline friends more than human interaction, this sign is a match made in heaven. JennyGems' funny wooden sign succinctly sums up the life of a true cat enthusiast: "Cats Welcome - People Tolerated." It's a humorous declaration that cats reign supreme in their household and a fun decoration that brings a smile to any cat lover's face.
With this personalized blanket, cat lovers can proudly proclaim their status as the official nap partner of their beloved pets. The KERAOO blanket is not only funny and heartwarming but also very comfortable. Made from soft material and customizable with the pet's name and breed, it's the perfect gift for anyone who enjoys a cozy nap with their kitty.
Bathroom decor just got a whole lot funnier with these AGRIMONY hand towels. Featuring adorable, humorous cat illustrations, they're sure to bring a chuckle to anyone who visits the restroom. They're not just about the laughs, though - these towels are also super absorbent and soft, making them a practical addition to any bathroom or kitchen.
This a unique T-shirt that any cat lover would be proud to wear. The Cat Heartbeat shirt is a cool, stylish nod to a cat lover's affection for their four-legged friends. This T-shirt features a simple yet meaningful design that blends a cat silhouette with a heartbeat line, a symbol of the wearer's love for cats. It's a soft, comfortable tee perfect for casual wear or lounging around the house with a purring pet.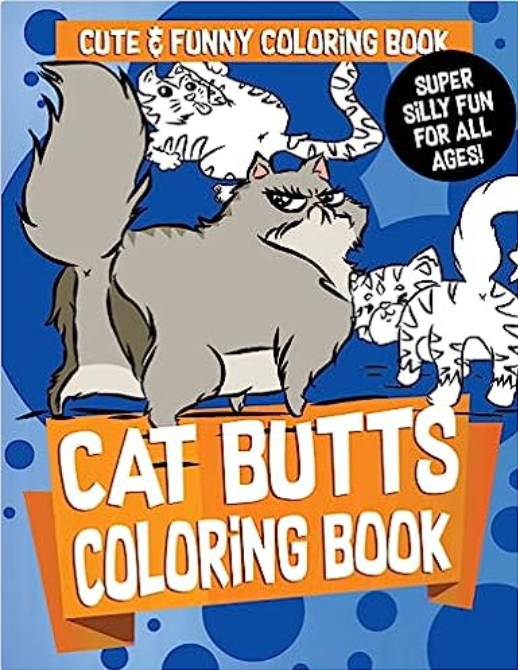 For the cat lover with a quirky sense of humor, this Cat Butts Coloring Book is a delight. Filled with funny pages of cat butts, it's a hilarious activity that offers relaxation and stress relief. Plus, it's a great conversation starter and could be the ideal icebreaker at a party or gathering.
This whimsical bottle opener is the epitome of funny cat gifts. Pearhead's Cat Butt Bottle Opener combines utility with humor, featuring a cat raising its tail to reveal a handy bottle opener. This fun kitchen tool is sure to be a hit at parties and get-togethers, making every bottle-opening a moment of laughter.
These novelty socks from NDLBS are a hilarious take on the love for cats. They feature 3D prints of animal paws, turning any human foot into a cat's paw! They're the perfect funny gift to keep cat lovers' feet warm, while also giving them a chuckle every time they look down.
Every cat owner knows that hair is a part of life. This pillowcase turns that common annoyance into a point of pride with the phrase, "It's not cat hair, it's kitty glitter." A witty spin on a familiar issue, this pillowcase brings a smile to any cat owner's face. Plus, it adds a fun touch to any room decor.
Aoevc's humorous tin sign is sure to brighten any bathroom visit. Emblazoned with a cat's perplexed face and the question, "Are you pooping?", this sign adds a dash of humor to the restroom. It's a hilarious gift idea that will be appreciated by cat owners familiar with their pets' uncanny knack for bathroom interruptions.
Make cooking and baking sessions more fun with these amusing oven mitts from HuiDou. Shaped like cat paws, these mitts protect hands from heat in the most adorable way possible. They're practical, heat-resistant, and irresistibly cute, making them a perfect gift for cat lovers who spend a lot of time in the kitchen.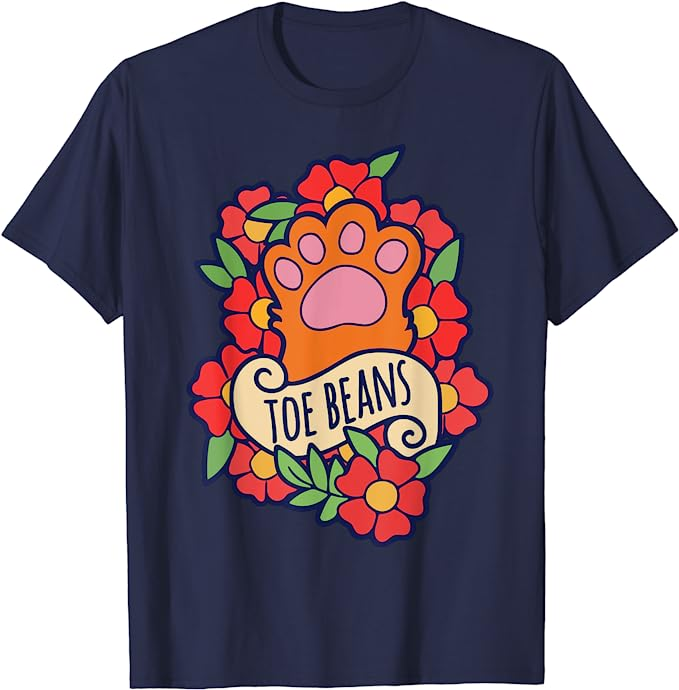 This funny T-shirt, with its witty "Toe Beans" caption, is a fun way to express love for cats. Made of soft, comfortable material, it's perfect for everyday wear or lounging around at home. Plus, the simple, cute design featuring cat paws (or "toe beans") is bound to earn compliments and spark conversations among fellow cat lovers.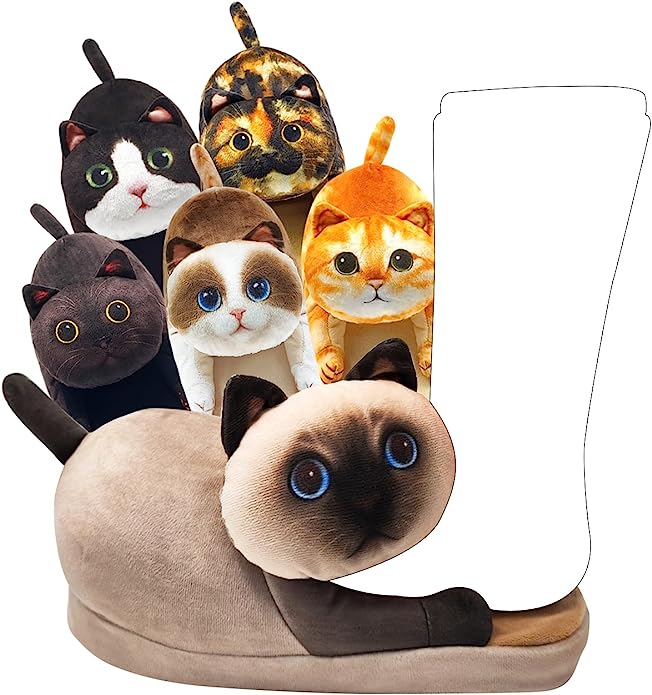 These slippers aren't just soft and cozy, they're also super cute with their kitten-inspired design. The Fuzzy Cat Slippers are designed to look like adorable little cats, complete with ears and embroidered faces. The slippers are perfect for keeping feet warm and comfy, whether indoors or outdoors. They make an excellent gift for cat lovers who enjoy lounging at home in style.
For the cat-loving whisky aficionado in your life, TOUNER's CatFather Whiskey Glasses are the perfect combination of elegance and humor. The design, an amusing spin on The Godfather film poster with a sophisticated cat replacing Marlon Brando, is sure to delight. The high-quality glass, suitable for whiskey on the rocks or neat, adds a touch of class to any cat lover's barware collection.
This powerlifting kitty sweater is a great way for cat lovers to show off their love for their furry friends and their passion for fitness. The hoodie, which features a cat deadlifting a barbell, is both funny and motivational, making it the perfect gift for cat lovers who enjoy a good workout. Made of comfortable material, it's great for both the gym and lounging at home.
The KFUBUO wearable blanket hoodie combines comfort, warmth, and cat-themed style. With its oversized design, sherpa lining, and pocket, this hoodie is perfect for those chilly evenings when you just want to curl up on the couch (maybe with a cat or two). Plus, the all-over cat pattern is an adorable way for cat lovers to show off their feline affection.
This cat-themed ring holder and trinket dish from Busy Gaming Life is both practical and cute. The dish, shaped like a cat's face, is perfect for storing rings, earrings, and other small trinkets, keeping them safe and organized. It's a fantastic gift for cat lovers who need a handy place to keep their small valuables while also displaying their love for their four-legged friends.
The Kitty Biscuits retro sign, with its charming "You Need, We Knead" slogan, is an endearing decor piece for any cat lover. Its vintage design, reminiscent of old-timey bakery advertisements, adds a dash of nostalgia and humor to any space. It's a delightful gift that cat lovers can hang in their home or office to express their love for kitties.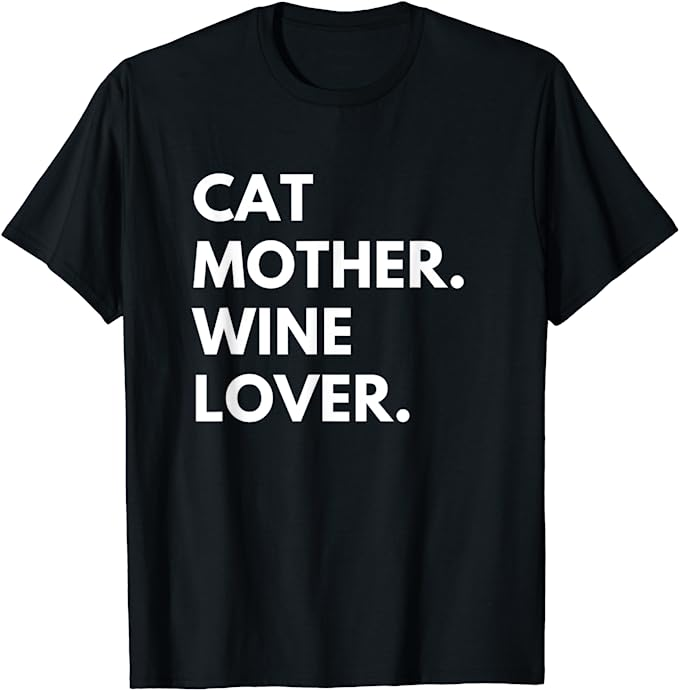 What better way to express a love for cats and wine than with this hilarious t-shirt? With the phrase "Cat Mother Wine Lover," this shirt is a humorous nod to those who love both their feline friends and a good glass of wine. It's a comfortable, stylish piece that makes a great gift for any cat-loving wine enthusiast.
Caffeine and cats, the perfect blend! This funny cat mug, emblazoned with "Need Coffee Meow," is an excellent gift for cat lovers who also happen to be coffee enthusiasts. It's a humorous way to kick-start the morning and an amusing nod to the inevitable pleading look a cat gives when it wants something.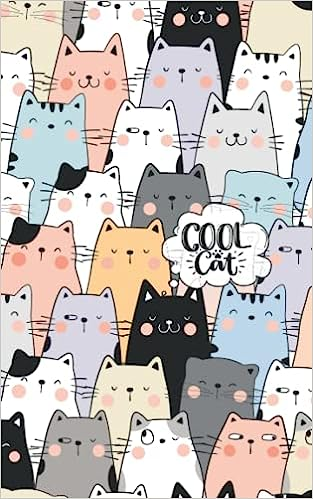 This "Cool Cat" notebook journal is a wonderful gift for cat lovers who enjoy writing, drawing, or just jotting down their thoughts. The cover features an image of a stylish cat donning sunglasses, making it a fun addition to any desk or bookshelf. The blank, lined pages offer ample space for creativity and reflection.
The VIONZEON Cat Collar Toy is a fantastic gift for cats and their owners. This unique, hands-free toy features a collar with attached feathers and a bell, providing hours of entertainment for indoor cats. Not only is it a great way to keep cats active and engaged, but it also allows cat parents to enjoy watching their feline friends have fun.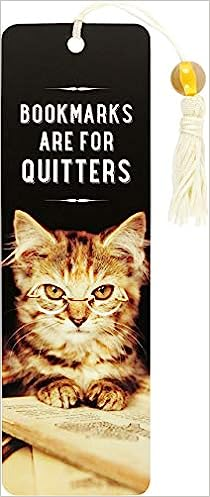 For the cat-loving bookworm, this "Bookmarks are for Quitters" beaded bookmark is a witty gift. The charming phrase is a humorous nudge to those who love getting lost in a good book. It's both a practical tool and a funny statement, making it a perfect present for any avid reader who loves cats.
This tumbler from Cosictic is a wonderful gift for cat lovers who enjoy a hot or cold beverage on the go. Adorned with a funny black and white cat design and the phrase "Every Thing Is Fine," this tumbler will bring a smile to any cat lover's face. It's made from durable materials to keep drinks at the perfect temperature, making it a useful and delightful present.
These funny desk signs are perfect for cat lovers who want to express their feline affection in the office. The set includes 30 flip-over messages, each with a humorous or heartwarming cat-themed phrase. These signs are a great way to add some personality and humor to a workspace and are sure to be a conversation starter among colleagues.
Moyel's hooded cat blanket is a dream come true for any cat lover who values comfort and coziness. This wearable blanket features a fun cat design and is perfect for snuggling up on the couch during a cold winter day. With its soft fabric and adorable hood, this blanket makes an excellent birthday or Christmas gift. It's a practical, cozy, and fun way for cat lovers to show off their love for their furry friends.
Each of these funny gifts for cat lovers offers a unique way to express love for cats while also bringing some humor and joy to everyday life. From tumblers to desk signs to hooded blankets, there's something for every cat lover in this collection. Choose the perfect gift and bring some laughter and feline fun into the life of the cat lover in your life. Whether for a birthday, holiday, or just because, these gifts are sure to be a hit.