Losing a beloved pet is akin to losing a family member. The profound bond shared between humans and their pets is one that's built over countless moments, from playful antics to quiet companionships during life's ups and downs. For many, pets aren't just animals; they are confidants, companions, and sources of unconditional love. Their absence often creates a void, making the process of healing and moving forward challenging. The grief can be overwhelming, echoing the deep emotional ties pet owners share with their four-legged friends.
As a friend or family member, you might feel the urge to offer solace during such trying times, but finding the right way to convey your sympathy can be daunting. You might be wondering what to give someone experiencing pet loss, seeking a sympathy gift that is both thoughtful and comforting, something that acknowledges the immense loss while offering a beacon of hope. Here's a curated list of pet loss gifts to help you navigate this sensitive gesture, ensuring your token of sympathy is both heartfelt and impactful.
1. Turn Your Pet Into A Cartoon Portrait
Transform cherished moments with your pet into an enchanting piece of pet memorial art. Pet Portraits offers pet owners a delightful cartoon portrait capturing the essence and quirks of their beloved animal friend. Crafted by seasoned artists with a deep appreciation for the human-pet bond, each custom pet portrait is a vibrant blend of likeness and playful charm. With customizable options, it's an endearing tribute suitable for both fond memories of pets passed and joyous celebrations of current furry companions. A memorable gift that promises smiles, it's a must-have for every pet aficionado.
2. Capti Rainbow Bridge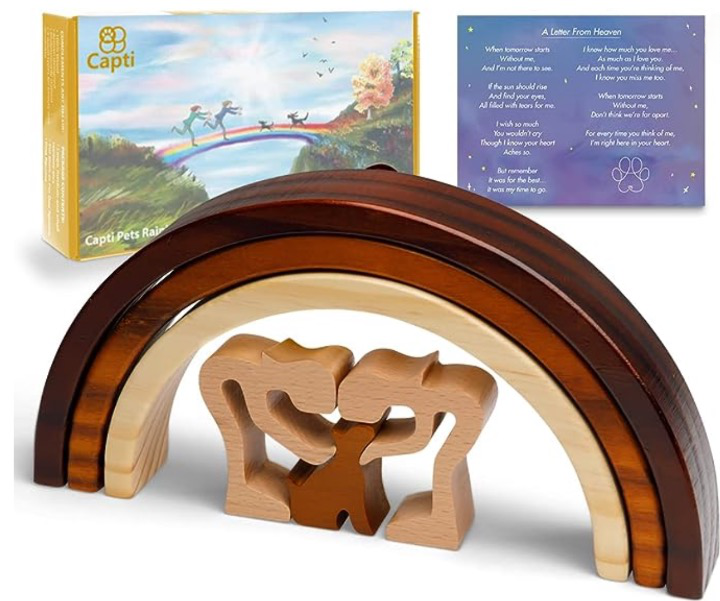 Featuring an evocative design of the "Rainbow Bridge" poem, this gift serves as a poignant reminder that grieving pet owners will reunite with their furry friend. It beautifully portrays the eternal bond between a dog and its owner. What makes it unique is its versatile design, crafted with both dog moms and dads in mind, ensuring that the bereaved feels a sense of hope and solace.
3. VENBEEL Pet Memorial Wind Chimes
A harmonious blend of aesthetics and symbolism, the VENBEEL wind chimes are not just any pet sympathy gift; they're a constant reminder of a beloved animal's lingering presence. Every time the wind brushes against these chimes, it's as if the departed pet is communicating, providing solace to the grieving pet owner. The 28" length ensures visibility and auditory comfort, making it an excellent pet sympathy gift for those who've recently lost their animal friend.
4. iHeartDogs Artisan Shadow Solar Lantern
This is not just a decorative piece but also a tribute to a furry family member. The 'Sunflowers & Paws' design reflects the brightness pets bring into our lives. What's even more heartwarming is its unique selling proposition: each purchase feeds seven shelter pets, making it a thoughtful gift that keeps on giving.
5. Lcensp Stained Glass Suncatcher
Melding artistic craftsmanship with sentiment, this suncatcher captures the essence of a pet's life and the color they added to our world. The light yellow dog decor against a blue moon backdrop is not just visually appealing but evokes memories of starry nights with a furry best friend. Placed on a window, it becomes a daily reminder of the beloved dog, making it an ideal sympathy gift for those seeking a beautiful and meaningful way to remember.
6. Rosleanny Paw Print Sun Catcher
This shimmering sun catcher, embellished with paw prints, radiates light and love. When sunlight hits, it creates a myriad of rainbows, symbolizing the journey across the rainbow bridge. Its prism effect ensures that the pet's memory shines bright, offering solace and a touch of magic to the grieving owner.
7. Hamharfe Personalized Light Up Picture Frame
Photos preserve memories, and this personalized photo gift frame illuminates them, quite literally. With a custom photo night light feature, it serves as a nightly tribute to the lost pet. It's a perfect blend of aesthetics and sentiment, ensuring the departed furry family member continues to light up their human's life.
8. Paw Prints Pet Memorial Candle
Infused with the therapeutic scents of clear quartz, tiger eye, and coffee beans, this 100% natural soy wax candle offers more than just a flame. It provides warmth, comfort, and a gentle reminder of the cozy moments shared with a beloved pet. The unique blend of fragrances ensures a calming experience, aiding the grieving process.
9. iHeartDogs Devoted Dog Angel Figurine
Crafted with precision, this figurine symbolizes the idea that every dog becomes an angel, watching over its owner. Its timeless design ensures it blends seamlessly into any decor, serving as a constant reminder of the guardian angel with a wagging tail.
10. LESEN Loss of Dog Pet Sympathy Gift Basket
Nothing comforts like a thoughtfully curated gift basket. This one is specially designed for grieving dog lovers. It includes a range of items that serve as both comfort and a tribute to the departed furry friend, making it one of the most apt gift baskets for those mourning their canine companion.
11. Pearhead Pet Keepsake Picture Frame
Pictures speak a thousand words, and this frame is designed to showcase the most cherished memories of a pet. The 'Forever Loved' inscription reaffirms the eternal bond between a pet and its owner, making it a precious gift for someone looking to immortalize their bond with their furry best friend.
12. A.B.C. Pet Memorial Bracelet
A delicate yet poignant gesture, this bracelet with a Rainbow Bridge card is more than just jewelry – it's a wearable memorial. Designed with love, it is a tribute to every dog and cat that leaves a void in one's heart. Adorning one's wrist, it serves as a daily reminder of the cherished moments shared with a beloved animal, making it a perfect gift for those wishing to keep memories close.
13. weslinkeji Candle Holder Statue
This intricate candle holder statue, complete with an LED candle, merges art with sentiment. When illuminated, it casts a gentle glow, reminiscent of the warmth shared with a fur baby. The design, dedicated to dogs, makes it a poignant dog sympathy gift for those wishing to commemorate their bond in a luminous way.
14. Huray Rayho 3D Glass Rainbow Bridge
A striking depiction of the fabled Rainbow Bridge in 3D glass, this piece is both an artful centerpiece and a beacon of hope. Accompanied by a sympathy card, it's a gesture that assures grieving pet owners of a reunion with their fur baby, offering comfort during tough times.
15. Catrageous Pet Memorial Blanket
More than just a blanket, this is a warm embrace encapsulating the love for a departed pet. Adorned with heartfelt sentiments and colorful pawprints, it's a cozy refuge that brings solace to those mourning the loss of their fur baby.
16. STOFINITY Wood Pet Sympathy Cards
In times of grief, words can heal. These wooden sympathy cards, dedicated to dogs, are a beautiful and meaningful way to convey condolences. Crafted with care, they offer comfort and understanding, making them a thoughtful gift for the grieving owner.
17. ISHINE Dog Memorial Picture Frame
This dog memorial picture frame is a testament to the timeless bond shared with a pet. Designed with attention to detail, it's the perfect spot for showcasing memories, making it an ideal dog lovers' gift for those looking to keep their pet's spirit alive.
18. Willow Tree Angel of Friendship
This hand-painted, sculpted figure is a tribute to every pet that became an inseparable friend. Its universal design speaks to the heart of any grieving owner, symbolizing the guardian angel that each pet becomes after passing.
19. Pawprints Left by You Metal Lantern
Light, in dark times, brings hope. This black metal lantern, etched with pawprints, does just that. Every flicker stands testament to a pet's undying spirit, making it a beautiful memorial gift for anyone mourning their beloved companion.
20. Willow Tree Love My Dog
A hand-painted ode to every light-furred canine companion, this figurine captures the essence of a dog's unconditional love. Perfect for any dog lover, it ensures that memories of a furry best friend remain eternal.
21. Rainbow Bridge Bracelet
This vibrant bracelet, inspired by the Rainbow Bridge, is a beacon of hope and remembrance. Designed for both men and women, it serves as a daily reminder of the love shared with a departed pet, making it an excellent sympathy gift for anyone in mourning.
22. Brrxiur Dog Memorial Sculpture
A tangible tribute to the silent paw prints left on our hearts, this sculpture is both art and solace. Crafted with exquisite attention to detail, it stands as a lasting memory of the joy, comfort, and companionship our furry family members brought into our lives, making it a valuable gift for anyone grieving the loss of their beloved dog.
23. Pawprints Left by You Pet Memorial Blanket
This blanket serves as a snugly reminder of the warm cuddles and comfort shared with a departed pet. Imprinted with paw prints and heartfelt sentiments, it's more than just a blanket - it's a comforting embrace for anyone mourning their beloved companion, offering solace during those chilly moments of sorrow.
24. Cat Memorials Wooden Sign
Crafted with care, this wooden decorative sign is a testament to the deep bond we share with our feline friends. The sentiment "Angels don't always have wings" captures the essence of our whiskered angels perfectly, making it an appropriate gift for those grieving their cherished cat.
25. iHeartDogs Pet Memorial Garden Stone
Gardens are where life blooms and this stone ensures that the memory of a lost pet blossoms there too. Inscribed with "You Left Paw Prints On My Heart", it's a reminder of the indelible mark our pets leave on our lives, making it a meaningful gift for any garden-loving pet owner.
26. Rainbow Bridge Pet Memorial Necklace
Elegance meets emotion in this necklace, symbolizing the Rainbow Bridge. It's a wearable reminder of the promise that we will reunite with our pets one day. Designed for both men and women, this piece of memorial jewelry assures the wearer of the eternal bond they share with their fur baby.
27. Personalized Pet Mom Jewelry
Customization adds a touch of intimacy, making this necklace a truly personal gift. Whether it's a portrait or a special engraving, this piece ensures that memories of a pet are always close to the heart, making it a perfect personalized gift for pet moms and pet lovers.
28. Pawfect House Memorial Stone
Marking a pet's final resting place, this memorial stone is a gentle nod to the memories, love, and joy they brought into our world. Suitable for gardens or grave sites, it's a beautiful way to pay tribute to a furry family member, ensuring they're remembered always.
29. Personalized Dog Memorial Plant Pot
Growth symbolizes life, and this personalized plant pot offers a way to memorialize a pet's life as new plants grow. With an option to customize it with a dog's name or breed, it's a living tribute to the times spent with a furry best friend.
30. Dog Memorial Suncatcher
Crafted with stained glass, this suncatcher reflects both light and memories. Personalizable with a name, date, or dog breed, it's a radiant testament to the sunshine pets bring into our lives, making it a unique gift for dog lovers to hang in their homes.
31. Solsken Home Pet Memorial Wind Chime
Suspended gracefully, this wind chime from Solsken Home acts as a serene testament to the boundless joy pets bring into our lives. As its harmonious chimes play in the wind, it revives cherished memories, much like the echoing of a pet's playful barks or gentle purrs. Standing proudly at 22", this wind chime is more than just an instrument; it's a melodious reminder of the treasured moments shared with a beloved pet. Its design ensures that with every gentle sway and breeze, a pet's spirit is celebrated, allowing them to continue touching our hearts long after they've passed.
32. jinhuoba Pet Memorial Stones
Every pet leaves a paw print on our hearts, and jinhuoba's heart-shaped memorial stone beautifully commemorates this sentiment. Hand-painted in pristine white with a touching sympathy poem and a paw-in-hand design, it is a thoughtful gift for those grieving their furry friend, offering a lasting tribute to their cherished companion.
33. Unittype Dog Grave Marker Cross
Honoring the resting place of a beloved pet, this grave marker is both poignant and durable. Crafted from waterproof acrylic, it stands as a heartfelt memorial in gardens and cemeteries alike. Its black sympathy garden stake ensures the memories of a furry family member continue to flourish outdoors.
34. BORLESTA Angel Figure and Bracelet
Celebrate the bond between feline friends and their owners with this cat angel figurine accompanied by a 7-chakra rainbow bridge bracelet. This dual gift set is not only a tribute to a lost pet but also a beautiful piece of jewelry to wear, capturing the essence of a pet's spirit.
35. Pet Frames for Loss of Dog
Photos capture moments, and this pet frame beautifully encases those treasured memories. With a unique collar mount design and a touching sentiment inscribed, it is a perfect gift for pet lovers, ensuring the radiant smiles of a fur baby live on forever.
36. Cat 3D Laser Etched Crystal Ball
Meticulously crafted, this crystal ball showcases a 3D etched angel cat on the moon. As light refracts through it, the memories of a beloved cat come alive, making it an exquisite keepsake for anyone mourning their feline companion.
37. ROCEEI Acrylic Night Lamp
A radiant reminder of a pet's enduring spirit, this acrylic night lamp illuminate's memories in the most heartwarming way. With a heart-shaped design and a base, it is a touching bereavement keepsake, ensuring that the love for a pet shines brightly even in the darkest hours.
38. Willow Tree True Sculpted Keepsake Box
Expertly sculpted and hand-painted, this keepsake box is a treasure trove for memories. Whether it's a collar, a toy, or a photo, this box safely stores them, making it a meaningful gift for owners seeking to preserve their pet's memories.
39. Pet Loss Memorial Bracelet
Jewelry has a way of touching the soul, and this paw print bracelet is no exception. Representing the unbreakable bond between a dog and its owner, it is both a style statement and a heartfelt reminder of a canine companion, offering comfort with every wear.
40. CJiangpo Pet Hair Keepsake Box
A sanctuary for treasured memories, this wooden box is specifically designed to hold pet fur or ashes. Engraved with a paw motif, it's a fitting tribute to the fluffy moments shared with a pet, ensuring that every strand of memory is cherished.
41. One Fur All Pet Memorial Candle
Infuse spaces with the warmth of memories through this eco-friendly soy wax candle. Non-toxic and with a prolonged burn time, it casts a gentle glow, reminding one of the illuminating moments shared with a pet. An apt memorial candle for both cats and dogs.
42. BOXCASA Stained Glassed Ornament
Celebrate a cat's heavenly presence with this stained-glass window hanging ornament. Depicting an angelic white cat with wings, it refracts light beautifully, ensuring the legacy of a feline friend shines bright in homes.
43. Pet Memorial Stones
A timeless tribute to furry friends who have crossed the rainbow bridge, this stone is intricately designed, evoking heartfelt memories. Suitable for gardens or mantelpieces, it's a touching remembrance gift for those grieving a pet.
44. No Longer By My Side Memorial Stone
Mark the profound influence of a pet with this waterproof and weatherproof stone. Engraved with a touching sentiment about the everlasting bond shared, it stands as an enduring testament to a pet's impact, be it in gardens or graves.
45. PawPrint Wooden Dog Memorial Gift
Exquisite in its simplicity, this handcrafted wooden ornament from PawPrint pays tribute to the most loyal of companions. Depicting a Border Collie with a generously sized heart, it stands as a representation of the boundless love and loyalty pets infuse into our lives. Every grain in the wood and detail in the carving reflects the unique personality and moments of joy that each pet brings. This delicate keepsake, with its intricate design, serves not just as an ornament, but as a heartfelt memory of the wagging tails, spirited barks, and affectionate licks of a departed dog, ensuring they're remembered in the most beautiful and meaningful way.
46. Nuenen Pet Hair Glass Memorial Bottle
Cherish the tangible memories of a pet with this glass vial, designed to hold ashes or fur. Accompanied by heart-shaped ornaments and organza bags, it offers a dignified way to remember a beloved pet, ensuring they are always close, no matter where one goes.
In this collection of pet loss gifts, every product tells a story, a tale of love, bonding, and memories shared with pets. Each piece captures the essence of the times spent, the joyous moments cherished, and even the bittersweet goodbyes that we've faced. Whether it's a physical keepsake, intricately crafted jewelry, or a serene memorial for gardens, each item serves as a beacon of comfort and a tangible representation of undying love. They're not just products, but symbols of remembrance that echo the laughter, solace, and companionship our pets brought into our lives.
These pet loss gifts stand as an affirmation of the irreplaceable roles pets play in our lives, offering solace to grieving pet parents and assuring them that though our furry friends might physically leave our side, their spirit, and the imprints they left behind, forever remain in our hearts. By choosing such a gift, you're not just offering a token; you're providing a bridge to healing, a way to honor a beloved animal friend, and a reminder that love transcends the boundaries of life and death.