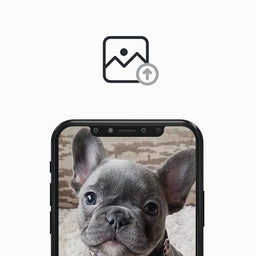 Snap Your Furry Friend 📸
Grab a pic of your bully from your computer, Facebook, Instagram, Evernote, Flickr, or your fave cloud platform.
Pick Your Purrfect Artwork 🖼️
We'll send you four paw-some variations to choose from, ensuring you're absolutely smitten with the result.
Seal the Deal 🛍️
Give us your nod of approval, and we'll print your unique masterpiece and whisk it off to your doorstep! 🐾🚚
✔ Upload Your Pet's Photo
Choose a clear, well-lit photo of your pet to capture their unique personality and features.
✔ Provide a Description & Specifics
Describe your pet's personality, preferred pose, and any other details you'd like our artists to incorporate in the illustration.
✔ Select Canvas or Digital Copy
Choose between a high-quality canvas print in various sizes and framing options, or a digital copy of the artwork delivered as a high-resolution file.
✔ Review & Approve the Artwork (24-48 hours)
Receive a custom illustration preview within 24-48 hours. Approve the artwork to ensure it captures your pet's magic before canvas production.
✔ One tree planted for every order
✔ Premium hand-stretched poly-cotton blend canvas
✔ State-of-the-art printing technology
✔ Water and fade-resistant artwork
✔ FSC-certified wood frame for a premium feel
✔ Capture your pet's magic in a stunning, lasting keepsake